Current Weather Situation and Future Developments: 
A slow-moving high pressure system is centred over the Tasman Sea and extends a ridge to the north coast. An inland trough in the far west of the state is expected to move slowly northeastwards, stagnating over the northern inland. Hot conditions over the western inland are forecast ahead of the next frontal system, which is forecast to enter southwest New South Wales on Monday evening, and then move through southern and central parts of the state on Tuesday.
Forecast for Today:
Mostly sunny morning. The chance of fog in the southeast early this morning. Medium (40%) chance of showers during this afternoon and early evening. The chance of a thunderstorm during this afternoon and evening. Light winds becoming westerly 15 to 20 km/h in the morning then becoming light again in the late afternoon.
Monday:
Partly cloudy. Medium (40%) chance of showers in the afternoon. The chance of a thunderstorm in the morning and afternoon. Winds north to northwesterly 20 to 30 km/h.
Tuesday:
Cloudy. Very high (90%) chance of rain, most likely in the afternoon and evening. Winds northerly 20 to 30 km/h turning northwesterly 25 to 40 km/h during the morning then tending northwest to northeasterly 15 to 25 km/h during the afternoon.
Wednesday:
Cloudy. High (80%) chance of showers, most likely in the morning. Winds northwest to northeasterly 15 to 20 km/h tending south to southwesterly 20 to 30 km/h during the morning then becoming light during the evening.
BACKCOUNTRY: 
The sky is blue, the sun is shining and winds are light. Showers are possible late this afternoon. Crossing the ford and Snowy River will be a challenge for some with water levels shin deep and hiking poles very useful. Snow cover remains EPIC in the gullies and lee slopes! Snow conditions will remain good in the lee slopes and chutes as we get, some cold and sunshine, then corn cycle. Lee slopes have a good cover due to wind loading effect and snow, and plenty of snow up high. Wind scoured, thin and bare in places on ridge lines.  
Be patient with plenty of snow still on upper peaks with Spring & the "backcountry" season; if you go beyond resort areas to explore! 
Kosciuszko Express lift is OPEN for backcountry access from Thredbo when Kosciusko Chair will reopen for Summer mountain bike operations and hiking access. Tourist rides and access @ $35 plus $4 for MyThredbo Card.  
Road Access to the Charlotte Pass Resort and turning circle is OPEN now but very limited parking till more clearing can take place due to snow conditions and a deep cover.
The NEW Cam looking towards Mount Kosciuszko is sensational to assess conditions (excepting when blizzard conditions prevail) or occassionally 'off line'. 
Mount Kosciuszko Cam (courtesy of Perisher)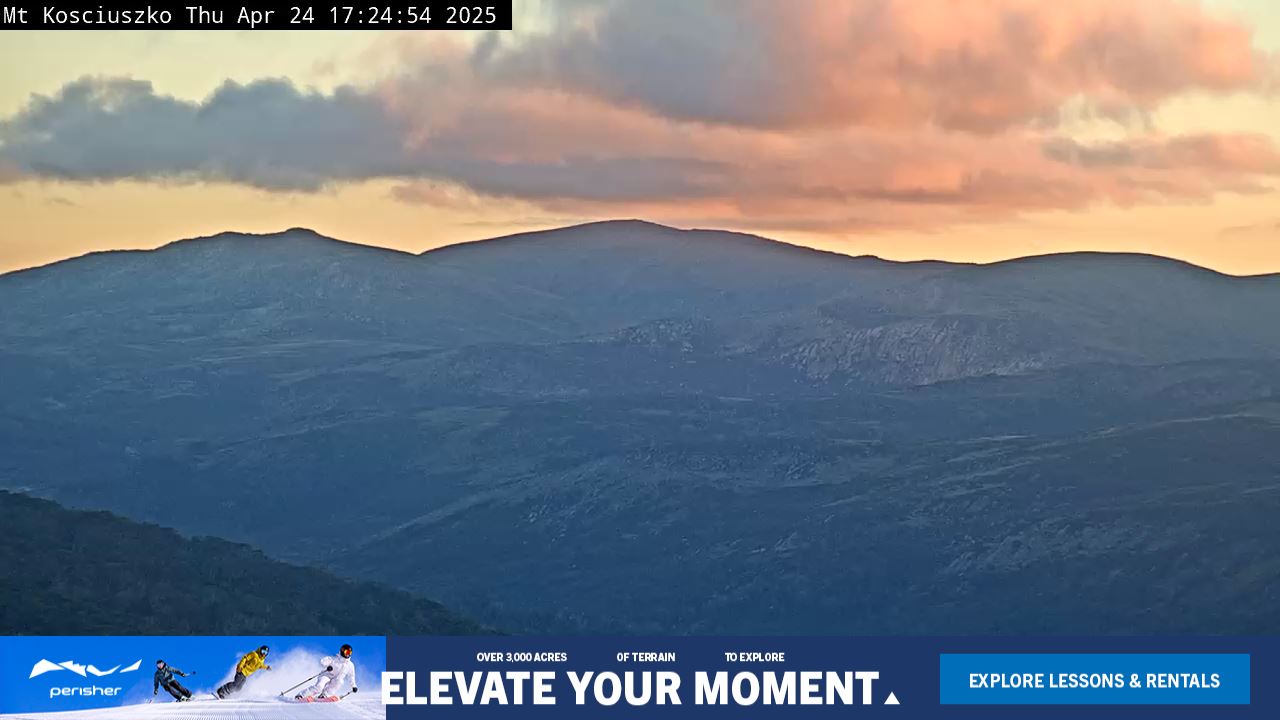 BE AWARE and ensure you minimise risks and know your terrain. Dress accordingly and BE PREPARED for mountain weather! Remember to stay hydrated and also remember plenty of sunscreen. 
Jagungal:  
Ridge lines are still holding some snow but thinning quickly. Exploring means a mix of walking and skiing on upper peaks above Schlink Pass. Lower elevations the cover will be drifts and you will have to plan your touring routes accordingly with wind and weather. 
Please remember to take your rubbish out and keep things cleaner than you found them.
Northern End (Mt Selwyn/Kiandra/Cabramurra):  
Ski touring is finished now in the area. Bushwalking and mountain biking are the best options. 
Blue Lake Climbing Conditions:
The gullies remain filled in still for snow climbing, if you are keen. Access and walking required to access Illawong, then drifts beyond around the upper slopes and peaks. 
WEATHER FORECASTS: 
Check Weatherzone OR Mountain Watch OR  Snowatch for regular weather & snow updates. A local Thredbo perspective on snow conditions Richards Report Thredbo
ROAD CONDITIONS:  For updated conditions please check with the RTA on 132 701 or the NPWS on (02) 6456 1553.  
Road is now OPEN for access to Charlotte Pass from Perisher according to RTA. 
2WD cars are required to carry chains when entering the Kosciuszko National Park between June and October long weekends.  
TIP FOR TODAY:
  The sky is blue, the sun is shining and winds are light. Showers are possible late this afternoon.  EPIC still for ski touring and backcountry conditions! Some great spring time skiing with some sunshine. Best conditions for XC; ski touring and snowshoes around Main Range areas. It remains complex in the Alpine and higher peaks so expect variable but good conditions if you head out to tour & are prepared. Crossing the ford and Snowy River will be a challenge for some with water levels shin deep and hiking poles very useful. Backcountry remains very good in most places and is where it is at for the keen outdoor types if you are keen to explore beyond the resorts and spring skiing looms.  
Walking to summit area will be easier with snowshoes, trekking poles and sturdy footwear. 
Get familiar with the terrain and take a look but stay safe. Know where and when to go (or not). 
Snow depth information supplied by Snowy Hydro on a weekly basis, taken every Thursday @ Spencer's Creek which is 1830 metres. Recorded as 2.7cm on Thursday November 16, 2016.
See Snow Depths at Spencer's Creek
Current OPENING hours in Jindabyne are 9 through 6 mid week though we will remain open late on Friday nights as we head towards Spring and weekends 8 to 6pm with such good skiing through October and likely in November.
Perisher store CLOSES from Monday October 3. ALL backcountry gear can be hired from Jindabyne store which remains open daily. 
Contact our Jindabyne store for experienced and local knowledge for advice on places to explore and mountain conditions. 

We are located round the corner from the Snowy Region Visitor Centre and opposite Alpine Sports. You can download Jindy Guide which is a FREE App recently developed for Jindabyne and works on Android and iPhone to locate either of our stores in Jindabyne or Perisher and many other useful details and information for Events and places locally! 

First real snowfall for the 2016 May 11 with 5cms falling.