SNOW & WEATHER CONDITIONS:
Thursday October 15, 2015 @ updated 9.00am

Prepared by: Bruce @ Wilderness Sports Perisher & Jindabyne Wilderness Sports

Current Weather Situation and Future Developments:

A high pressure system over the Tasman Sea is extending a ridge along the New South Wales coast, while a weakening trough lies over the inland. Humid winds converging into this trough are expected to create unsettled weather about much of the far northeast today. The trough is expected to decay today, allowing the high to become the dominant synoptic feature in the region during the second half of the week as it drifts slowly east. This should promote a return to fine weather in most districts, apart from the odd shower or two in the northeast corner early Friday, with warm to hot northerly winds also making a return. The next trough is forecast to affect the state during the weekend.

Forecast for Today:
Sunny. Patchy fog near the Victorian border early this morning. Winds north to northwesterly 15 to 20 km/h tending west to northwesterly 25 to 40 km/h in the morning then becoming light in the late evening.

Friday:
Partly cloudy. Winds north to northwesterly 15 to 25 km/h tending west to northwesterly 25 to 35 km/h in the morning then becoming light in the late evening.

Saturday:
Cloudy. Medium (60%) chance of showers, most likely in the morning and afternoon. The chance of a thunderstorm in the afternoon. Light winds becoming west to northwesterly 25 to 35 km/h during the morning then becoming light during the evening.
Sunday:
Partly cloudy. Slight (20%) chance of a shower. Light winds.
PERISHER NORDIC SKI TRAILS:
Grooming of the Nordic Trails has now finished for the 2015 winter season.
The Nordic Shelter is now CLOSED.

SNOWSHOEING:
Snow will be soft underfoot to start with more sunny days forecast. The conditions are good at the moment to explore higher elevations & places on the Main Range for access or alternately continue up the road towards Mount Kosciuszko for best access.
The Snowy Mountains Snowshoe Stomp is scheduled to return in Perisher on Saturday, August 20 2016 add to your diary and calendar for 2016 and so much fun for kids and all ages to discover the ease and joy of snowshoes.
Be careful and be prepared when visiting the Snowy Mountains but it is good to get out and explore to get familiar with terrain!
PLB's are available for hire here in store and available to "try before you buy".

Hotline for updates 1800 654 168.
BACKCOUNTRY:
Cooler overnight and warming up again early so snow will remain soft. Backcountry conditions continue to impress with excellent cover high up and in gullies; if venturing into the backcountry will be great to explore upper peaks like Townsend and also Club Lake best options.
Higher peaks the snow is a good cover but skiing has been soft, you need the right aspects. Snowshoes very useful on the higher areas. Keep clear of corniced areas.
Kosciuszko Express lift from Thredbo for easier access @ $35. Charlotte Pass offers some great options to easier access and beyond the Snowy River to chutes and gullies. Great conditions in the backcountry leading into Spring with a deep cover in the lee slopes and gullies. Afternoon storms build but then clear quickly @ this time of year but do not impact on snow pack as some people fear. Hot winds usually do though.
Best access is from Charlotte Pass with lower water levels across the ford on the Snowy River.
Access to the Charlotte Pass turning circle opened (2.10.2015).
The NEW Cam looking towards Mount Kosciuszko is sensational to assess conditions (excepting when blizzard conditions prevail) or occassionally 'off line'.
Mount Kosciuszko Cam (courtesy of Perisher)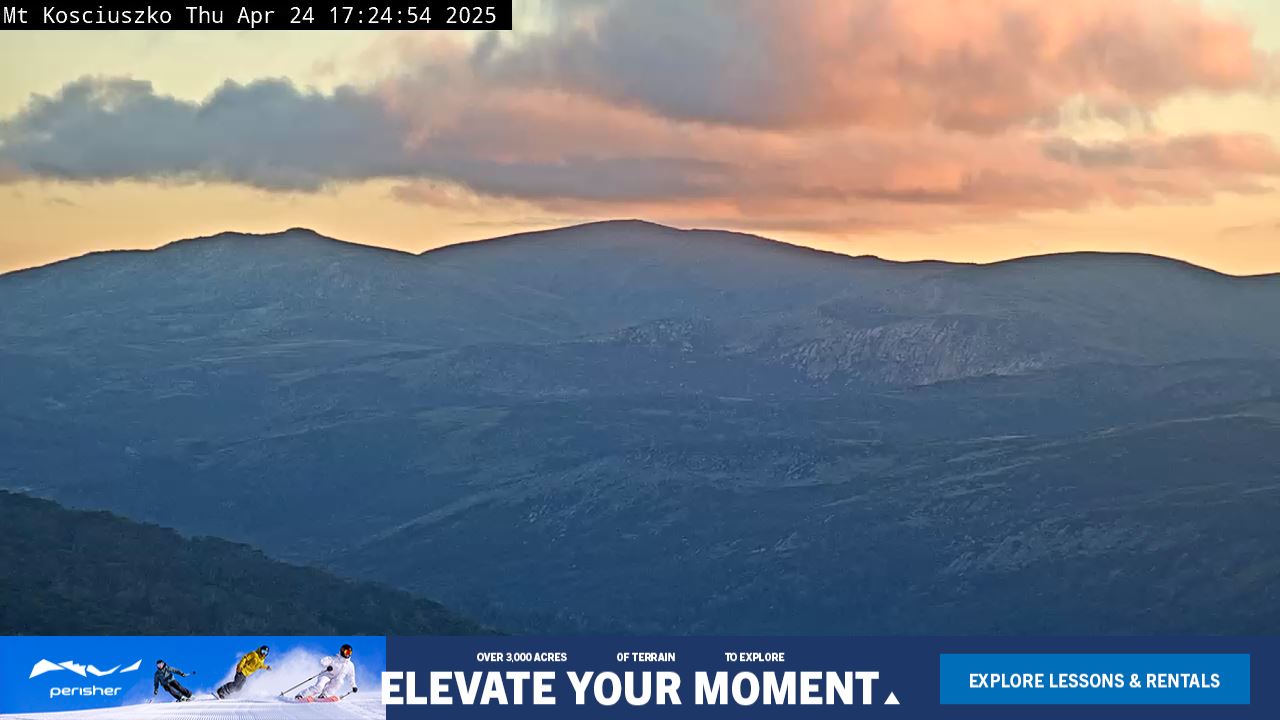 Good opportunity to get familiar with mountains and conditions with the better weather according to forecasts. BE AWARE and ensure you minimise risks and know your terrain. Keep away from corniced areas and beware of terrain traps. Dress accordingly and BE PREPARED for mountain weather! Remember to stay hydrated and also remember plenty of sunscreen.

Jagungal:
Conditions are best on the Main Range now for ski touring.
Might be worth thinking of mountain biking up to access remnants of snow beyond Schlink Pass as it makes the trip back down very fun and a quick return.

Northern End (Mt Selwyn/Kiandra/Cabramurra):
Back to bush walks and mountain biking in northern parts of the Park.

Blue Lake Climbing Conditions:
Firm snow conditions return with a cool night, snow predominant in the gullies. Present weather system have turned more to Spring so early bird catches the worm. Still some cold nights. Improved access and snow conditions to get to Illawong and to access Blue Lake but climbing conditions will be good and worthy for the keen.


WEATHER FORECASTS:
Check Weatherzone OR Mountain Watch OR Snowatch for regular weather & snow updates. A local Thredbo perspective on snow conditions Richards Report Thredbo
ROAD CONDITIONS: For updated conditions please check with the RTA on 132 701 or the NPWS on (02) 6456 1553.
Road is OPEN today 2.10.2015 for access to Charlotte Pass from Perisher according to RTA.

2WD cars are required to carry chains when entering the Kosciuszko National Park between June and October long weekends.

TIP FOR TODAY: Backcountry is where it is at! Sunny conditions so ensure you use plenty of sunscreen. Snow will be very good with very good Spring skiing conditions on lee slopes.
The resorts ski lifts are closed....Kosciuszko Express offers access to top of Thredbo for $35. Road opened to Spencers Creek $0. Great conditions once you get across the Snowy River. Remember snow melt means the ford on the Snowy River rises from early morning and will be higher in the afternoon, so take care & understand river crossing techniques. Opportunity to make plans for chute and gully skiing and snow camping trips into October with such a good snow pack.

Walking to summit area is easier with trekking poles and sturdy footwear. Backcountry season has arrived with more snow and a deep and solid base and cover now.
Perisher and Thredbo Resorts with extensive man made snow & recent cold conditions have ensured a pretty decent winter "season" but now Backcountry is where it is at!. Get familiar with the terrain and take a look but stay safe. Know where and when to go (or not).
Kosciuszko Express @ Thredbo is OPEN for hiking to access upper mountains @ $35; hiking from Charlotte Pass $0. Conditions beyond the resort boundaries will require care travelling in the backcountry and recommended you avoid corniced areas.
Snow depth information supplied by Snowy Hydro on a weekly basis, taken every Thursday @ Spencer's Creek which is 1830 metres. Recorded as 46.4cm on October 8, 2015.
See Snow Depths at Spencer's Creek
EVENTS:

The Sverre Kaaten Nordic Shelter has been getting LOTS of TLC with regular work parties and will CLOSE from Sunday 27 September; Wilderness Sports Perisher store located in the NPWS Building is OPEN still through School Holidays. Open from 9.00 am. Our Jindabyne store is OPEN year round for adventure gear & hire of outdoor stuff & XC ski gear, AT & Telemark gear for the resort slopes and also snowshoeing.

None on the schedule.

Current OPENING hours in Jindabyne are 8 through 6 though likely we will remain open later on Friday nights with the arrival of winter and snow.
Perisher store is OPEN from June Long Weekend and CLOSES October Long Weekend with all things Nordic; XC ski hire and retail sales including accessories, waxes. Telemark skis; snowshoes and XC ski gear.

Contact our Jindabyne store for experienced and local knowledge for advice on places to explore and mountain conditions.

We have now relocated into our NEW space adjacent to the Snowy Region Visitor Centre and opposite Alpine Sports. You can download Jindy Guide which is a FREE App recently developed for Jindabyne and works on Android and iPhone to locate either of our stores in Jindabyne or Perisher and many other useful details and information for Events and places locally!

First real snowfall for the 2015 April 20 with 5 cms including resorts.